Masashi Moriwaki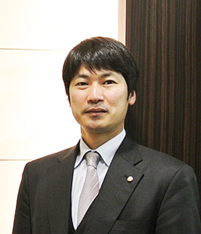 Managing Patent and Trademark Attorney
Graduated from Department (Faculty) of Electrical Engineering and Computer Science, Nagoya Institute of Technology.
Completed first half of Doctoral program (i.e., Master's course) in Electronic Systems, Interdisciplinary School of Science and Engineering, Tokyo Institute of Technology.
At intellectual property department of major electrical manufacturer, responsibilities included obtaining patent protection (including searching, preparation, filing, and prosecution of foreign and domestic patent applications) for technologies related to semiconductor processes and elements. In particular, while in the employ of this major electrical manufacturer, proposed and implemented strategies such as IP awareness and brainstorming campaigns which were directed at inventors and which were intended to result in acquisition of patents of increased value.
Member of Kyoto Institute of Invention and Innovation; member of Licensing Executives Society Japan.
Biography
| | |
| --- | --- |
| 2000 | Passed Patent Attorney Examination (Registration No. 11704) |
| 2005 | Obtained additional registration for representation of clients in specific infringement litigation |
| 2008-2010 | Expert Participant (Techinical Adviser) in Intellectual Property Litigation (assigned to court for fixed term); assigned to Tokyo High Court, Tokyo District Court, and Osaka District Court |
| 2009-2011 | Member of Japan Patent Attorneys Association International Activities Center, International Policy Research Division. |
| 2013-2016 | Lecturer of IP laws at Ritsumeikan University for international students |
| 2014-present | Expert Participant (Techinical Adviser) in Intellectual Property Litigation (assigned to court for fixed term); assigned to Tokyo High Court, Tokyo District Court, and Osaka District Court (reappointed and still on working ) |
| 2018 | Delegation of JPAA (Japan Patent Attorney Association) of SCP28 and SCP29, standing committee of Patent(https://www.wipo.int/policy/en/scp/) at WIPO |
"For more detail information, please visit to the link (https://www.linkedin.com/in/mmorijp/ ) "
Areas of expertise
Electrical and electronics-related fields (technologies related to semiconductor device structures/manufacturing processes and elements, electronic circuits, various electrical apparatuses, computer software and related technologies, etc.)